Summer 5773 - August 2013 Update


Two Workshops Conducted in Ashdod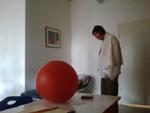 In
March
In Their Shoes R.A.
volunteers traveled south to Ashdod to guide Senior Day Care Center directors through the Virtual Dementia Tour. Their reaction to the experience was profound and the subsequent discussion with the group led to renewed intentions toimprove care for their customers through a better understanding of their behaviors.
We returned to Ashdod in
April
to repeat our workshops for local social workers of the Ministry of Welfare, with much the same response. Participants in the workshop are always amazed by how little they actually really understand the reasons for some of the behaviors frequently seen in their clients. The workshop truly has opened their eyes to a different perspective of how to deal with these behaviors.
The Association of Nursing Homes in Israel (ABA) Purchase Several VDT® Kits for Use in Member Nursing Homes.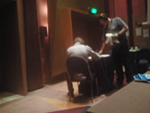 After a very intensive two days in Eilat where In Their Shoes R.A. conducted the VDT for over 90 nursing home administrators and other professionals at the annual convention of the Association of Nursing Homes in Israel (ABA), ABA arranged for the bulk purchase of several VDT kits to be used as a pilot project in some of their member homes.
This was quite an undertaking, because all the material in the VDT manual required translation into Hebrew. Our gratitude to our volunteer and professional editor Orna Neryah Yogev who reviewed and edited the Hebrew translation to produce a professional and user-friendly document.
The kits were distributed to the nursing home representatives in three separate full day training sessions conducted by Zissie and Sandy Gitel during July and August. Trainees will now be able to conduct the VDT for employees of their respective nursing homes as well as for family members of their patients.
Two-Part Workshop Conducted in Mishan Neot Afeka Nursing Home.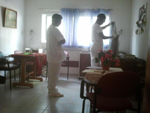 A two-part workshop was conducted in English in
May and July 2013
for over 30 foreign workers, caregivers of the elderly residents living in the assisted living section of the Mishan Neot Afeka nursing home. The workshop included a lively discussion of how the Virtual Dementia Tour ® brought to life the feelings of despair and frustration the caregivers view in their patients and the need to understand what is causing these feelings and how to treat their patients with more compassion.
Below is a
letter received from foreign caregiver after experiencing our workshop at Mishan Neot Afeka: